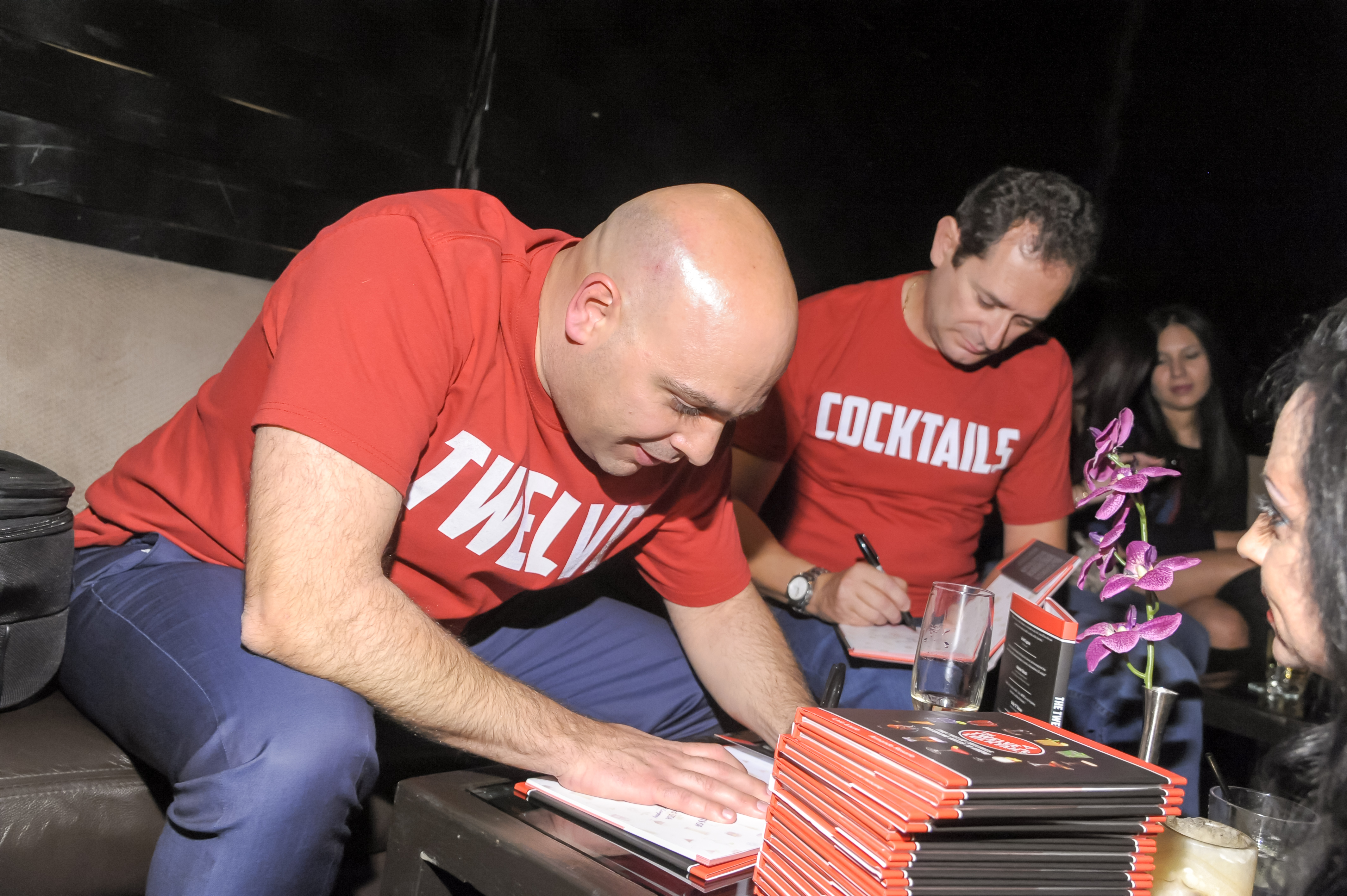 09 Apr

12 Cocktails!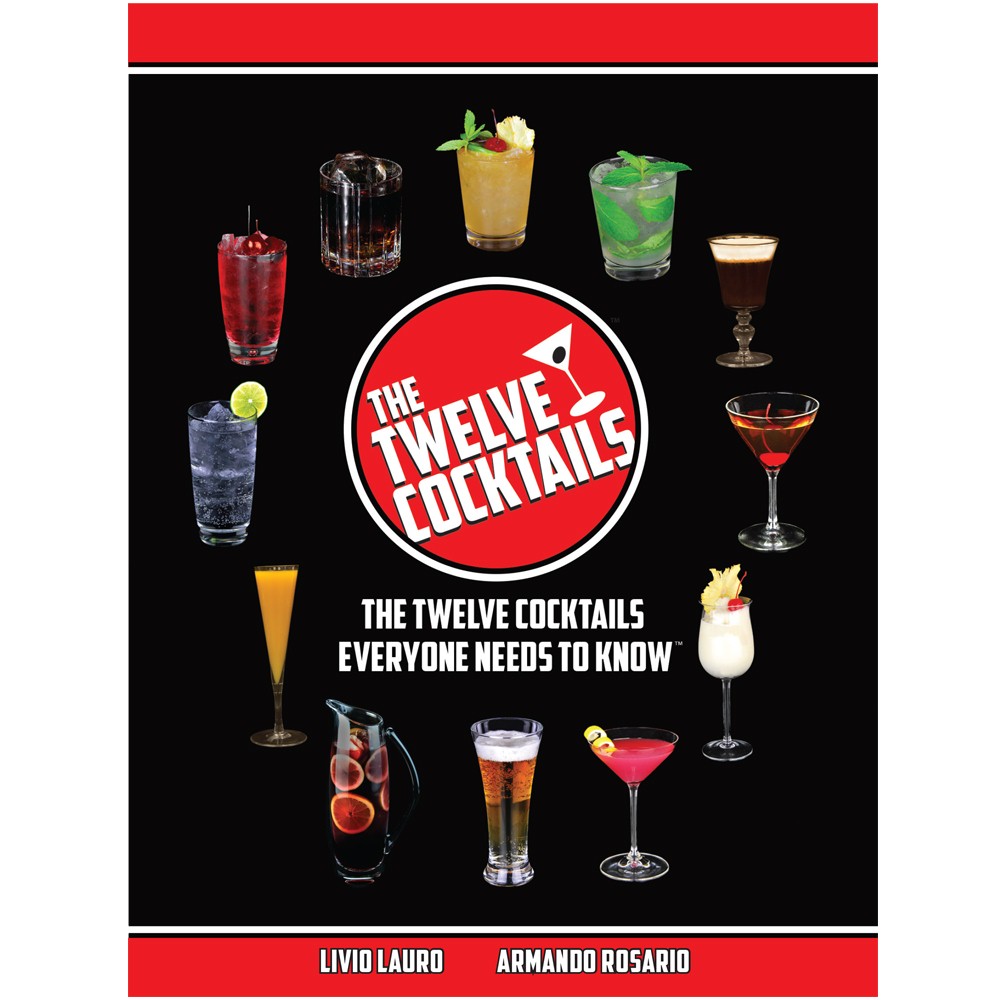 Meet the fearless cocktail authors duo Armando Rosario and Livio Lauro! These gentlemen are good friends that share a mutual passion for a damn good cocktail! Their book THE TWELVE COCKTAILS will teach you how to create a cocktail with simple steps that are sure to wow your friends and family!Livio Lauro sat with me to share with you their cocktail journey as authors.
BA:How did the book came about?
LL: Armando Rosario has been specializing in the development of innovative cocktail creations for more than three decades and several of his signature cocktails have appeared in trade magazines around the country. He has worked in such respected establishments as Highland Pavilion in New Jersey, Le Cirque 2000 in New York, Princess Cruise Lines and Wynn Las Vegas.
Armando is Director of Mixology for Southern Glazer's Wine and Spirits of Orlando and constantly promotes the resurgence of classic cocktails made with the freshest ingredients. Armando's catch line is "Make it fresh…keep it simple".
I started my beverage career over 20 years ago in Southern Italy at the famous Club Valentino and later at the cocktail-centric Dolce Vita; both located on the beautiful island of Ischia in the heart of the Mediterranean.
Since 2001 I've worked for Southern Glazer's Wine and Spirits of Las Vegas and have worked with many of the most recognizable hospitality corporations by assisting them in the development of successful and profitable beverage initiatives. I guest lecturer on F&B-related topics at UNLV, which is recognized by as having the most prestigious hospitality education program in the world.
Armando and I are both classically-trained bartenders who went through rigorous journeys to become masters of our craft. The Twelve Cocktails book came about because we recognized that the cocktail scene was becoming overly-confusing and we felt the need to keep things simple.
We noticed that the spreading of senseless-confusing techniques in the last decade; the publishing of long-winded encyclopedias of the cocktail; and the distancing from the classic time-tested practices really achieved the opposite of spreading a healthy cocktail culture.
As a result we decided to write a book that teaches cocktails in a complete fashion with an approachable and intuitive approach.
BA: Why 12 cocktails and not more?
LL: So let's face it, when you buy most cocktail or cook books the main intent is to show you how to prep and then "feed" you a bunch of recipes. Our book is different, to take advantage of a popular saying our book teaches you "How to Fish" vs "Feeding you a fish for one day".
To give you an example you can buy a book with 500 pizza recipes or you can buy a book that will demonstrate how the "proper" use of dough, sauce, toppings that will always reward you and your guests with a great pizza.
The Twelve Cocktails book showcases the 12 cocktail categories, through 4.5 years of trial and error we have been able to place "all" cocktails under these 12. For each category we have listed one cocktail that best represents its respective "family". With the teachings from our book readers can intuitively understand how to make great cocktails recipes of their own by simply modifying the cocktail that represents its respective family.
BA: Give tips on how to be creative with a cocktail recipe?
LL: For example let's take the "muddled" category from our book. We have listed the "Mojito" as the cocktail that represents this family. Here is the recipe for our Mojito:
Ingredients:
6 – 8 Mint Leaves
1 oz. Simple Syrup (equal amounts of sugar and water)
1 oz. Fresh Lime Juice
2 oz. Light Rum
Top with Club Soda
Glassware: Collins or Rocks Glass
Method: In a Collins glass, muddle all the fresh mint leaves with the simple sugar and lime juice. Top glass with ice, add the rum and the club soda. Stir well to bring the mint leaves to the top.
Garnish: Mint Sprig
Now with the aid of our color-coded Twelve Cocktails Composition Chart on pages 32-33 you can replace the ingredients. For instance replace the Light Rum with Gin; the mint with Basil; the lime juice with lemon juice, the simple syrup with your favorite liquid sweetener or flavored syrup, and top with soda. The result is a completely different recipe from the same family of drinks. This is a basic example and the Mojito can be modified endlessly.
BA:  I know from experience that you are both amazing home chefs! Please give your favorite dish recipe inspired by a cocktail.
LL: How about we do the opposite? Several years ago we were both consulting for an Italian restaurant in Las Vegas and we used the flavors of one of our favorite finger foods "the bruschetta" to make a cocktail that features gin, dry vermouth, muddled tomatoes with basil and a pinch of salt. This drink was served straight up in a cocktail glass and is a hit every time!
BA: Are there any myths about cocktails that you can dispel?
LL: The more expensive the booze, the better the cocktail. This theory seldom holds ground when you put it to a taste test!
Our recommendation is not buy the dirt cheap booze nor the most expensive. Instead, go for middle-of-the-road bottle and your drink will still taste great. However, when it comes to the juices and mixers make sure you are using the freshest and best quality.
BA: Tell me about some of the garnishes that every home bartender should know.
LL: With so many new drinks becoming popular, preparing your garnish really depends on what drinks you are going to be serving. Not all of the below are necessary unless you plan on having a full bar where any drink can be requested.
It is more important to have a few fresh garnishes then it is to have a variety of them. We find that a nice "swath" made from the peel of a citrus fruit with a vegetable peeler is versatile for all sort of drinks served "up" or "on the rocks".
Packaged garnishes to buy at a store for a full bar
• Cocktail Cherries
• Pitted Olives
• Cocktail Onions
• Kosher salt (to coat the rim of a glass)
• Powdered Sugar (to coat the rim of a glass)
Garnishes to prepare for a full bar
• Lime and lemon Wedges
• Lime Wheels
• Lemon and Orange Twists
• Orange Slices
• Mint Leaves and tops (keep in water)
By using the garnishes listed above on their own or in combination you are ready to garnish almost every drink.
BA:  What is a tasty, easy to prep cocktail to make in advance to bring to a party that will wow your friends?
LL: The Negroni! Simply mix equal parts of gin, Campari, and sweet vermouth together. All you need to do is add ice and serve on the rocks with an orange slice  or serve straight up in a cocktail glass with an orange peel for a more modern version.
This cocktail is very "boozy" and herbal so for those who are not ready for it we suggest serving it over ice and topped with soda water.
BA: What glassware line do you sugges for home bartending?
LL: Riedel Restaurant series is a great line of glassware. Riedel is a highly respected company and the "Restaurant series" is affordable and sturdy while still giving you an amazing drinking experience.
The essential glass types we suggest are:
Highball Glass; Cocktail Glass ; Champage Flute; Old Fashioned Glass; and Wine Glasses
BA: What is a non-alcoholic drink that you offer at a cocktail party?
LL: The non-alcoholic drinks category is the first of the 12 featured in our book and that is not by coincidence. Armando and me feel like this category deserves more respect. This plays an important role in responsible service and sensitive drinking.
While we listed the Shirley Temple in our book to best represent this drink family for learning purposes at an event we would probably feature another classic drink called the Skiwasser:
Skiwasser
1 oz. Fresh Lemon Juice
1 oz. Premium Raspberry Syrup
4 oz. Soda water
Prepare directly in a tall glass over ice
Garnish with a Lemon peel and a Maraschino Cherry
BA: If you could make a drink for one person dead or alive who would it be, what is the drink and why?
LL: Ernest Hemingway.
Hemingway was notoriously fond of drinking and new how to drink. As witnessed by Philip Greene's book To Have and Have Another. Hemingway had several go-to cocktails. His favorite was the Dry Martini.
As classically-trained bartenders making a Dry Martini for a larger-than-life character who knows how to drink represents an amazing experience. I am sure we would be able to turn him on to a Negroni too!