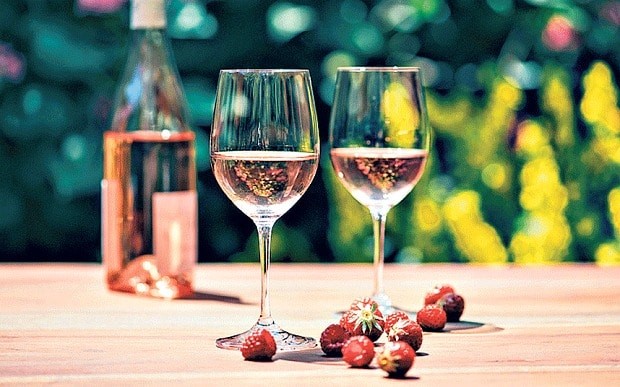 06 Nov

Unexpected Sister

My name is Mary. I am the baby sister. I am the lucky one who grew up with two older sisters and a younger brother.  Our sister-bond was impenetrable. In those early years our seamstress mom thought it best to make us all the same dresses, so we looked identical to the outside world. It was difficult to make us look identical considering my two older sisters were brunette with brown eyes and glasses and I was blonde and green-eyed.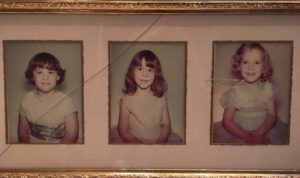 Yet, I recall performing in an elementary school talent show wearing the same outfit as my two older sisters.  Our father had hopes we could one day perform on the Lawrence Welk Show like the Lennon Sisters—even though only one of us could carry a tune. While he had a talented trio of daughters, we were not destined to be singers and we looked silly in those outfits with our at-home haircuts. No one dared tell us. There were three of us after all.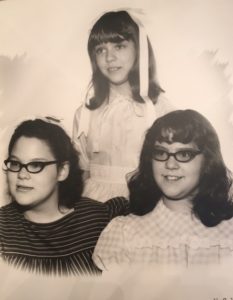 Childhood rituals die hard and on every holiday we sang in a triad over several glasses of wine or cocktails and convulsed with laughter. We found some Lennon Sisters vinyl in our late dad's collection and our children still place bets on when the festivities will begin at our holiday gatherings.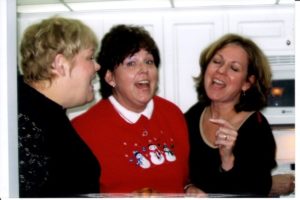 My oldest sister is the matriarch and lives out the birth order ritual. My middle sister was fierce. We were all programmed to be achievers, so she always told me what to do as she practiced her leadership skills. When I stole her lipstick or pantyhose I knew there was no way I could get away with it.  She was like a surrogate parent holding me accountable for everything. It didn't matter how we fought and argued though, we were sisters bonded through and through. So, when my middle sister died my world stopped. STOPPED.  Losing a sister is like losing a giant piece of your soul. Eventually I learned to breathe again and realized I continue to be guided by her light.  Coaxed by a dear friend, I recently spoke to a medium who asked who the tall brunette was telling me what to do from the other side. He said she was reprimanding me. Go figure. Is she bossy in heaven too?
I love my sisters and cherish the bond that was so deep the three of us could get dressed simultaneously in a single bathroom, or even share a double bed in a small Chicago apartment. Little did I know that sharing one's heart and private space could also be the preparation for a sisterhood with our girlfriends.
I have a few lifelong and deeply meaningful friendships that are my strength and heart. I hired my best friend several years ago. I did not know she was going to be my best friend back then. She was the mixologist who was to be the co-founder of a trade school for the industry. I stole her from a bar in a classic hotel in Las Vegas. My boss loved her. The industry loved her. Everyone loved her. As we worked side by side, as hard as I ever worked in my life, Bridget Albert changed the industry and she changed lives in the industry. I bet there are hundreds of people who would claim she forever altered their life trajectory. She changed my life.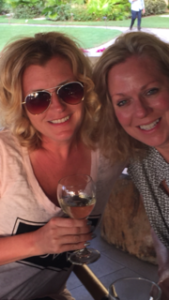 Bridget has the courage to be genuine and live from the heart. She has a childlike gusto for fun and no matter if it is just a cup of coffee with Bridget, you are going to laugh. She has wormed her fresh, lively self into my heart. I lovingly call her my kid sister. There's that bond again.
We have crossed the globe together, co-authored a book together. We have lived, loved, lost and laughed together. We have made millions of cocktails together and enjoyed quite a few too.
We are going to begin sharing this journey and our crazy stories as we continue to write our next book-SHAKEN AND STIRRED: A Girlfriend's Guide to Life, Love and Cocktails.  We promise you all the emotions of sisterhood—you will laugh out loud, cry, giggle and shake your head.  Some of you may still want to reprimand us. We also promise you some great cocktails and we hope you will share your stories as you sip them.
So, pour yourself some sisterly-pink rose http://esclans.com and raise your glass in a toast to your sisters and your best friends who are like your sisters. Share their names. Give them a hug and a shout-out and get ready.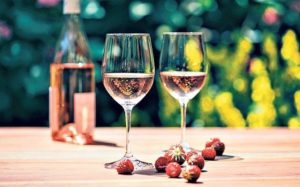 Life is not boring when you have sisters!